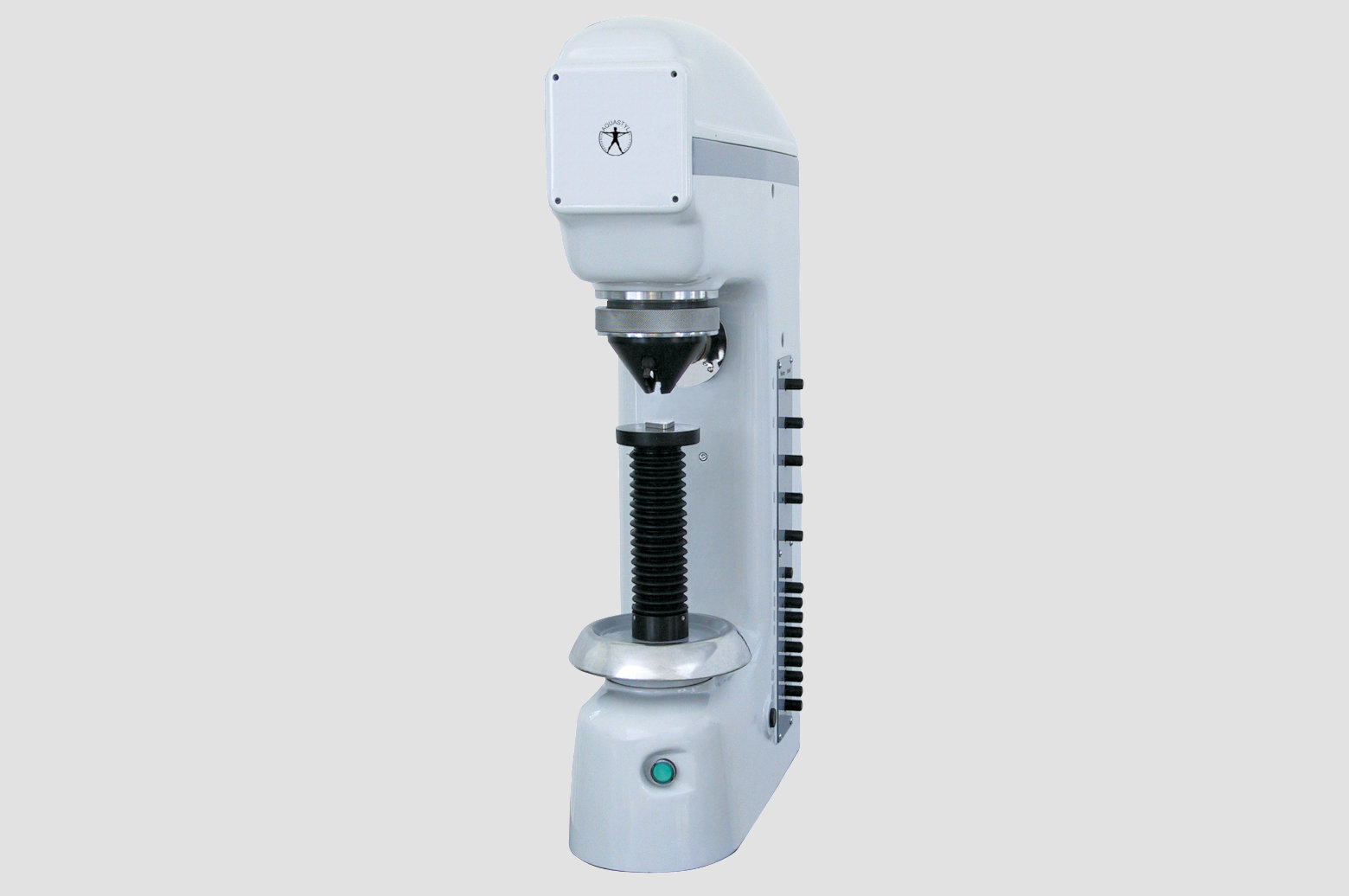 HPO-250KR/AQ
Hardness tester for testing hardness of metals with the Vickers method (according to STN EN ISO 6507), the Rockwell method (according to STN EN ISO 6508) and the Brinell method (according to EN ISO 6506).
The hardness tester HPO-250KR/AQ is intended for measuring material hardness with the Vickers, Rockwell and partially with the Brinell method using a ø 2.5 mm ball.
In automatic mode the process of measuring is controlled by PC. The imprint scanning is carried out by a sensitive CCD camera with high resolution, necessary for precise processing of measured results. The camera is connected to a PC. The hardness tester HPO-250KR/AQ works under Windows.
General description of software
It is a new software for collecting and statistic data evaluation of the hardness tester, which works according to the Brinell, Vickers and Rockwell method. This product fully cooperates with the network and enables data export to the server for further processing. The database is also accessible from the network environment, so that the measured results are also accessible to another users in case of necessity.
Characteristic software properties
Choice of communication language - Slovak, Czech, German, English
Choice of testing method
Measurement and evaluation of indentation by means of a CCD camera
Retrospective modification of testing
Statistic functions
Automatic data transmission over the network
Analysing and processing of measured data
Conversion of measured value to another methodics
Printing of attests in selected language
Measurement from PC
Tech­n­ical data
Meas­ure­ment
measurement range: max. 2452.5 N
measuring ball: ∅ 2.5 mm
diamond measurement: Vickers diamond, apex angle of the walls 136°
diamond measurement: Rockwell diamond, apex angle of the walls 120°
Size, weight
set height: 970 mm
base l x w: 550 mm x 200 mm
max. diameter of worktable: 300 mm
max. height of measured component: 220 mm
weight: 130 kg
Vari­ant, colour
execution of device: cast metal stand
colour: ivory combined with grey
Basic fea­tures of the device
1 pcs HRC plate
1 pcs HV plate
1 pcs HBW plate
1 pcs Diamond holder
1 pcs Rockwell diamond
1 pcs Vickers diamond
1 pcs Holder with a hard metal ball ø 2.5 mm
1 pcs Measuring table ø 300 mm
1 pcs Measuring table - "V" shape