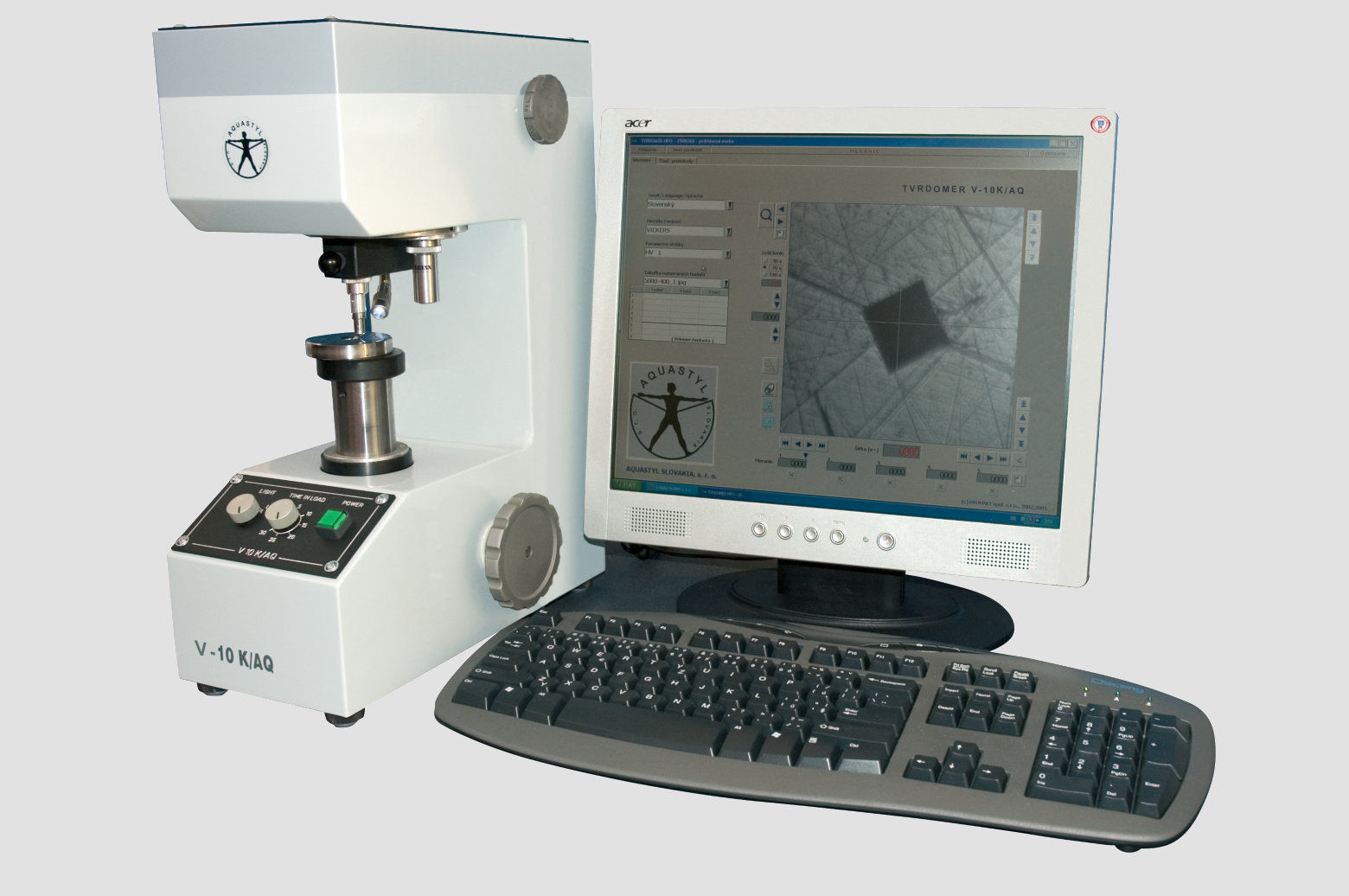 V 10K/AQ
Micro hardness tester for testing hardness with the Vickers method (according to STN EN ISO 6507).
The micro hardness tester consists of a cast iron frame with loading and measuring unit.
The measuring process takes place in automatic regime. The impression is evaluated with a sensitive high resolution CCD camera which is necessary for accurate processing of the measured results.
The Micro Hardness Tester works under Windows operation system.
Test methods
Vickers STN EN ISO 6507
HV0.01 - HV10
Max. height of the sample 95 mm
General description of software
A new software used for the collection and statistical evaluation of data from Vickers hardness testers. This product fully compatible with the network and makes it possible to transport data automatically to the SQL server for further processing to make the measured results accessible to other users.
The delivered programme is intended for the processing of pictures taken by the CCD camera of the impression in the tested material as well as for the evaluation and projection of the measured data on the display, data archiving in the database and printing of measured and processed results on a connected ink-jet or laser printer. The control unit of the computer makes it possible to start the measuring cycle of the hardness tester from the display. The computer runs under Windows operation system. It has all programmes and controllers necessary for the connection of the CCD camera and the start of measurement.
Characteristic software properties
Selection of test methods and monitoring system indicating the necessity to replace the impression body and the objective
Measurement and evaluation of the impression using a CCD camera
Evaluation of the hardness measuring process
Repeated modification of the test - feedback control of measured results
Statistical functions
Automatic data processing via network
Data analysis and processing
Attest printing in selected language
Possibility to choose communication language ‑ Slovak, Czech, English, German
Possibility to move the sample using a cross‑type table
Possibility to choose the impression spot
Tech­n­ical data
Meas­ur­ing
measuring range: max. 98.1 N
impression body: diamond tetrahedral pyramid "Vickers" 136°
max. height of measured component: 95 mm
Size, weight
set height: 525 mm
base l x w: 330 mm x 175 mm
weight: 35 kg
Vari­ant, colour
device variant: cast-ivory stand
colour: ivory combined with grey
Basic configuration
3 pcs HV plate
1 pcs Diamond holder
1 pcs Vickers diamond
1 pcs Roundtable ø 95mm